Chester Kahn was born in 1936 in Pine Springs, Arizona on the Navajo reservation into a long line of silversmiths and rug weavers. His upbringing was based upon the traditional Navajo lifestyle that included livestock and farming. It was during his early years that he drew on canyon walls and cardboard as while he herded sheep. Eventually he went to the BIA day school in Pine Springs, then to Shiprock Indian School, and graduated from Stewart Indian School in Nevada.
While at Stewart, Chester developed as a painter and exhibited at the Nevada State Library in Carson City, Washoe County Library, and Tower Theater in Reno; and won an award at the Nevada Artists Association Exhibit in Reno.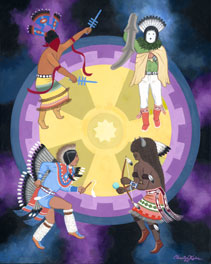 After school Chester returned to the Navajo reservation he became a professional sign painter, painting many billboards including the first large roadside billboard for Navajo Shopping Center in Gamerco, NM. He continued to develop as a silversmith and painter winning many awards, including the: Gallup Inter-tribal Indian Ceremonial, Arizona State Fair, Navajo Tribal Fair, and Philbrook Art Center in Tulsa. In the early 1960's, Chester painted a large mural inside Gallup Indian Community Center which, regrettably, has since been demolished.
He also illustrated two books during this time: Warriors of the Rainbow, and Strange Journey and in 2002 he illustrated the book The Winds Erase Your Footprints.
In 1968 he moved his family, including six children, to Chinle to direct the Chinle Agency office of the Office of Navajo Economic Opportunity (ONEO), appointed by Navajo Tribal Chairman Peter MacDonald. He also held other positions with the Chinle Extended Care Facility, Chinle Valley School for Exceptional Children, and Canyon De Chelly housing complex.
Returning to his artistic roots Chester began silversmithing and painting again. He has worked and exhibited at galleries in Scottsdale and Gallup, and various locations around the country.
In the 1980's the El Rancho Hotel in Gallup commissioned Chester to paint 36 murals. This historical hotel hosted notable guests such as President Eisenhower, President Reagan, Katherine Hepburn, Humphrey Bogart, Kirk Douglas and other movie stars.
His most well-known murals entitled "Circle of Light" are proudly displayed inside the Ellis Tanner Trading Company in Gallup. These 64 murals painted from 1994 to 2000 depict prominent Navajo people and their history from the 19th and 20th centuries.
Other notable murals include a very large mural in downtown Gallup called the "Native American Trading Days", and murals in the new Indian Hospital in Fort Defiance, new clinic at Pueblo Pintado, Thunderbird Jewelry Supply, and at the Love's trading post in Gallup.
Chester has also traveled across the country and parts of the world, lecturing on the subjects of Navajo arts and culture, Native American spirituality and traditions, and speaking on behalf of the Circle of Light Foundation. In 2008 Chester was named "Living Treasure" for the 87th Annual Gallup Inter-tribal Indian Ceremonial.